Your natural-minded best friend or amazing wife just had a baby and you want them to feel loved and well-taken care of, right? This list of crunchy new mom gifts will take her postpartum early days & months to the next level! Perfect for a present to bring during labor, to the hospital, or to home after the baby has arrived.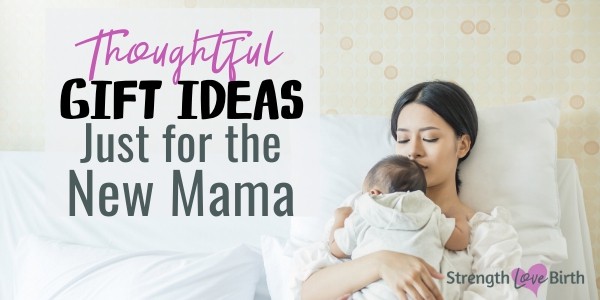 Having a baby is hard work, no matter which way you look at it. And when someone you love just when through that hard work of growing and birthing a tiny human, it's only natural to want to honor her for that amazing effort.
Don't make the mistake, though, of buying an organic baby outfit or wooden rattle and calling it good.
No way!
That woman deserves to be pampered and the baby got a bunch of new stuff already, I bet!
I mean, if you insist, get something for the baby. But you better get a new mom present for that crunchy mama (sister, friend, wife, etc) to ease her first days and months after birth.
Trust me on this one: Buy a new mom gift that is not for baby and not baby-related.
You may be headed to the hospital to drop off this new mama gift or headed to her home with a present just for her. Or perhaps you live far away and are mailing a lovely new mom care package? Several of these in a box or basket would be perfect!
Whatever way you deliver it, these ideas for eco-friendly new mom gifts for the crunchy mom in your life will be well-received, I promise!
Crunchy New Mom Gifts (that aren't for baby!)
Any new mom will love an Audible Gift Membership. The thing about newborns is they love to be held, so holding a book becomes near impossible. Help that new mama take her book on the go with an Audible book. She can listen while feeding the baby or taking a quick walk around the neighborhood. Having a great book to listen to can make those tough early days of motherhood a little more bearable. Highly recommend!
---
New mamas need a LOT of water to replenish lost fluids. She needs a water delivery system that checks a lot of boxes. It needs to:
Hold a lot of water so she doesn't have to keep going back for more
Be easy to drink with one hand- a straw lid is perfect for this
Keep the water at a nice temperature for hours
Nice clean stainless steel so no worries about health
Trust me on this. Just buy this huge, kind of spendy but worth every penny water bottle. The woman just pushed a human out of her nether regions, for goodness sake! Get the lady a good water bottle!
---
Having a new baby should means lots of time snuggling on the couch. Give her the gift of extra luxurious baby snuggle time with an amazing blanket like this Super soft faux shearling throw from Nordstrom Rack. If you haven't bought a new throw for the couch lately, you'll be completely blown away by how soft and fluffy they can be. Surprise her with a soft new blanket that she and baby can enjoy for months!
---
If you buy your new mom friend a pair of THESE super soft maternity/nursing pajamas, she will be forever in your debt. These new mom PJ's are everything she needs: comfy, drop-in visitor appropriate, and did I mention SUPER SOFT?
---
This is going to be judgment call, as not all mamas love figurines, but some do! I'm trusting that you know your wife or your sister or your friend well enough to know if she will love a beautiful mother figurine like the one above that symbolizes her deep attachment to her baby.
The style above is a little more casual, if you're looking for something a bit fancier, consider this handcrafted porcelain mother figurine that is every bit as sweet and lovely for the new mama to cherish.
---
New Mom Gift Ideas For The Whole Year
These gift ideas for new moms aren't just for the first day or week or month after baby comes.
This list will come in super handy for the first Mother's Day after the baby is born or the new mom's birthday. And any of these gifts will be perfect for the new mom on Christmas, too.
I swear to you, these mostly crunchy gifts just for a new mom will be welcomed and loved any time of year.