Want all the amazing health benefits of turmeric for kids but don't know how to get them to take it? This genius little kitchen hack is cheap, simple, and pretty easy to get past your kids stealth weird foods radar. Worth a try, anyway!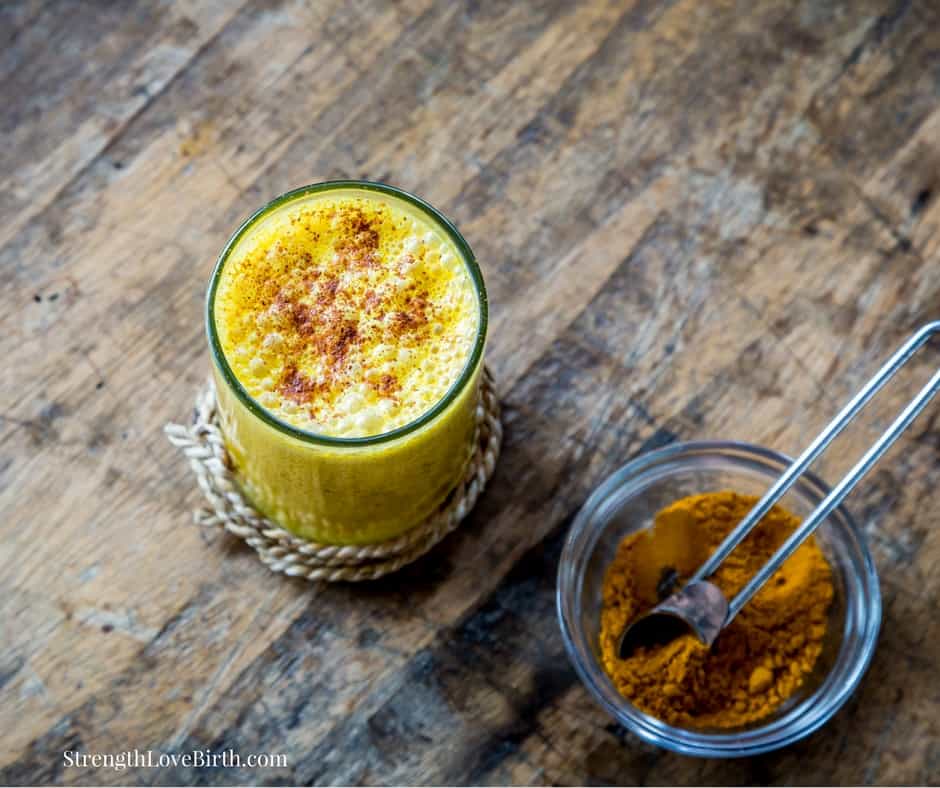 Have you seen all the posts about Golden Milk lately?
I think it's great, but honestly, we have soooo many beverage options and adding another can just feel like more work. But turmeric is so healthy that I want my whole family to consume it. If you have managed to not hear what's so great about turmeric blasting over the internet in the last few years, let me share a few highlights with you.
Health Benefits of Turmeric for the Whole Family (Yes! Even Kids!)
Consumption of turmeric possibly prevents or reduces risk of certain cancers (I'm all for doing anything possible to protect my kids from cancer)
Turmeric can benefit the brain and may reduce Alzheimer's risk (Brain benefits for my kids? Yes, please.)
Turmeric treats inflammation like a charm! (Last year I reduced my hayfever and spring allergy symptoms quite a bit with daily consumption of turmeric)
All of these and more point to turmeric's ability to boost the immune system.
And that's just the highlight reel! There is obviously more than enough there to make regular consumption a priority.
Crazy good benefits or no, though, my kids were not going to put up with drinking Golden Milk every night. Although, I did find this recipe for Hot Turmeric Cocoa for Kids and Toddler over at Baby Foode that looks pretty darn good.
Thankfully, I found another way to consume this golden powerhouse that is easy, tasty, and, best of all, not one more task to add into my life (or down my kids' throats).
How I Get My Whole Family Eating Turmeric Several Times a Week
I have simply begun adding chopped fresh turmeric into any recipe where I'm already adding chopped garlic or ginger.
I just grab the turmeric rhizome and chop up a couple of tablespoons. It goes right into my stir-fry, soup, or casserole right alongside the garlic or ginger. Couldn't be simpler.
What Does Fresh Turmeric Taste Like?
The fresh turmeric tastes a lot different than I expected after tasting the powder. It's really pretty good. Not bitter all, just fresh and earthy.
I prefer the flavor of fresh. It slips more easily into a dish without overpowering or overcoloring the food. My kids have noticed the new addition but have not complained about it. Mom win!
Where To Buy Fresh Turmeric
The toughest part is finding a source for the fresh root. I found mine at a local gourmet grocery store (Dorothy Lane Market for anyone near me in the Dayton, Ohio area).
If I didn't find it there, I would have checked the health food store produce department next and then the Asian grocers. Unless you're in a pretty rural area, I bet you can find some relatively close.
UPDATE: I've been able to find fresh turmeric even at my regular old Kroger in the last few years.
The only regret I have is that I bought a fair amount and it started to mold after a month or so. Next time I'm going to freeze half of it to be used later, a trick I learned that works with ginger, too.
Other Ways to Consume Turmeric
Okay, I know started this whole article kind of with an anti-Golden Milk stance, but really I am not against it!
Drinking Golden Milk daily is how I improved my hayfever symptoms without medication, and I kind of dig the earthy, sweet, creamy flavor combo that it provides.
If you want to increase your own consumption of Golden Milk and maybe even your more adventurous children, I highly recommend the following hack: Make a concentrate of the turmeric, black pepper (increases absorption of the turmeric greatly), coconut oil (the fat also helps absorption), honey (locally sourced is also good for hayfever!), and other spices.
By making the paste ahead of time, you've exponentially increased the health benefits of the turmeric AND your ability to make a cup with lightning speed! That's what we crunchy moms call a WIN-WIN.
So go ahead and keep that turmeric concentrate in the fridge and drink up on the daily and keep adding that fresh chopped turmeric into your family's dinner a few times a week.
By doing so, you are improving your family's health in beautiful and holistic ways.
Now then, do you have an easy way to sneak turmeric into your family's diet? Please share!