Looking for the best essential oils for labor and birth? Essential oils can be useful for every birth, whether needed for calming, grounding, pain relief, or helping bring on consistent contractions. Don't underestimate the power of essential oils as a part of your birth toolkit.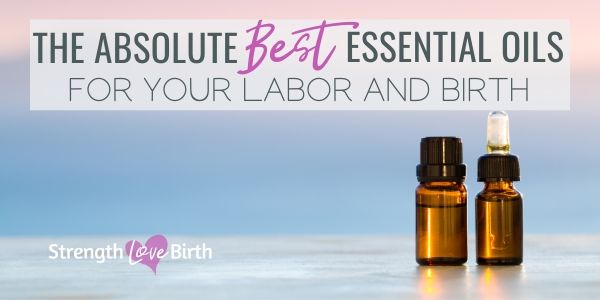 Can you use essential oils during labor?
Yes! You can use essential oils during labor and delivery. There have been studies done on the safety and usefulness of essential oils to laboring women. Most women (more than 50%) found them useful, some did not, and only a minority (1%) thought the oils had undesirable aspects.
Based on those numbers, your chances are pretty good of essential oils being a worthwhile investment for you.
How to use essential oils during labor?
There are several great ways to incorporate essential oils into your childbirth and laboring hours. Here are my favorite.
Diffuse the oils in the labor room
Some hospitals will allow you to bring your own diffuser. I didn't think they would. Then I was at a birth with a doula client last year at a local hospital that is not known for being "natural friendly". They let her diffuse oils in her room. The nurses commented every time they came in how lovely it smelled, and I'm pretty confident that the clary sage we diffused helped this mama to get her slow-moving labor off the ground.
So definitely ask your birthplace if you can bring in your own diffuser. And if you're planning a homebirth, well, you're in business!
Which diffuser? Let me let you in on a little secret…All the ones that are like $50 and below operate the same way. The only differences are in tank size (which affects runtime) and aesthetics. I find that the smaller tanks are just fine. They run just long enough until I'm tired of that scent, and then I can change it up. I have a super plain one, but when it dies, I'm going for a diffuser with a nicer look like this inexpensive one from Amazon with a stamped metal design that gives it a cool boho look.
Use a washcloth near the birthing mom
This is a technique that I use a lot at the hospital when I'm acting as a doula for someone. I wring a hospital washcloth out with hot water and apply a few drops of the essential oil onto the washcloth. Then I place it near the head of the laboring woman. If she's in the tub, I'll set it on the side. If she's in bed, I'll just put off to the side of the pillow. If she's upright and walking or bouncing on a ball, the washcloth can just rest on her shoulder.
This is a convenient and easy way to inhale the oil but also be able to remove it at a moment's notice. If she all of a sudden decides she hates clary sage, the washcloth can be tossed in the laundry bin.
Breathe from a personal inhaler
This is a great option if you just have a few oils you'd like to have on hand and you want ease of use. A personal inhaler is a little handheld wand with a wick inside that you pre-moisten with the oil or oils you'd like to have on hand. It looks like a vaping pen that you smell instead of smoke. ?
I've linked to a set of 6 inhalers in different pretty colors. With this type of set, you could have several single oils on hand for different needs (calming, energizing, grounding) and then a few filled with premixed blends if you want to bring those.
Personal inhalers are convenient and you don't have to worry about spilling a whole bottle of expensive oils in your hospital bag or on the delivery room floor.
Best essential oils for labor and birth
Ready for all the best essential oils for labor and birth? Here we go:
Lavender Essential Oil for Labor and Birth
To me, lavender is the ultimate user friendly essential oil. Lavender is universally loved and known for relieving stress, but it can also relieve pain, mitigate headaches, and just improve mood.
Lavender is useful during any part of labor. In early labor, some women get headaches or feel anxiety about what's to come. Inhaling lavender can help with both of these.
As labor intensifies, lavender's ability to calm and relieve pain is so useful.
And finally, transition is traditionally a time when women may NOT be calm AT ALL! This is a great time to use lavender to help calm fears and bring high anxiety and stresses and possible pain back down as much as possible.
If you only buy one oil, make it lavender. The bottle should say Lavandula Angustifolia to have the lavender that I'm referring to that has been studied and proven to have the benefits I've mentioned.
You can buy lavender essential oil on Amazon here if you like, or see Additional Resources below to see why I recommend getting it straight from Eden's Garden.
Clary Sage Essential Oil for Labor and Birth
I really, really love clary sage for labor and just in general as a calming and grounding element. It has been used to treat depression and insomnia and actually has been shown to lower the cortisol levels in the body, a sign of stress reduction. It is just a very comforting and lovely oil.
One excellent use of clary sage essential oil during labor is its ability to promote regular, productive contractions in the laboring body. Sometimes while in labor, the contractions just seem to spread out and lighten up. Diffusing clary sage or rubbing a little on a pressure point seems to help the contractions pick back up again and strengthen.
This also means clary sage is useful if labor needs to be augmented or induced for some reason. I see clary sage as a helpful natural partner to invite along for the ride during this kind of situation.
One word of caution: Sometimes labor slows or stops because of a physical reason. Perhaps the baby's head is a little crooked and not applying direct pressure to the cervix. Having a wise midwife or doula around will be useful in assessing a situation because all the clary sage in the world won't force a body to contract that is unwilling or unable to for physical reasons. See Spinning Babies for more on tips to help baby with good position both during pregnancy and during a labor that doesn't appear to be co-operating.
Neroli Essential Oil for Labor and Birth
Neroli is the essential oil produced from the flower of the bitter orange. It is lovely and costly. I bought a pre-diluted bottle when I first started making my own birth oil blends.
Neroli oil is really good for reducing fear and anxiety and regulating breathing. It has a very sweet floral smell and is calming. I find it works well in a blend with other oils and is a useful essential oil to keep on hand for any labor.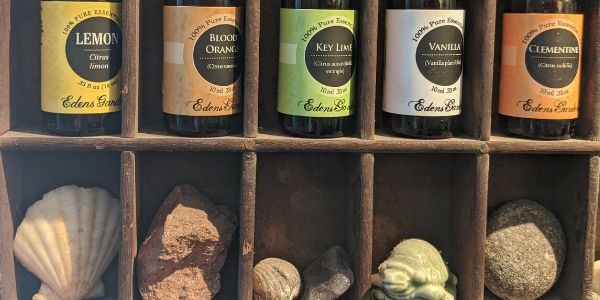 Additional resources on the best essential oils for labor and birth
I personally use and recommend oils from Eden's Garden. EG is a woman-owned company. Their oils are pure, therapeutic grade, and highly tested. Their amazing blends are by certified aromatherapists (and EVERY SINGLE ONE I've tried has been delightful). They have wonderful customer service and great, informative content on their blog. Oh! AND they've been voted as the #1 non-MLM essential oil company for a few years running. Basically, they're great. Wonderful oils without a middleman. You can get them on Amazon, but I prefer to shop their website because they have free shipping and a great rewards program so you save extra money. I definitely give Eden's Garden my highest recommendation. Try some new oils today!
I found this book by Michaela Boldy, RN, was a great resource for women looking to learn more about how essential oils work, how to use them safely for yourself and even baby, and how to take advantage of their properties while in labor. The author shares her top ten list of oils she recommends during labor and why. It's super-helpful to think about what an oil's physical effect and emotional effect might be. She puts it all in a handy chart that is super easy to reference.
Furthermore, this book is extremely well-researched and meticulously documented so you can feel confident that the information she is sharing is more than well-wished and hearsay. Check it out if you are craving a bigger dose of safety, science, and possibilities of uses during labor. She even tells you how to make your own custom blend of labor oil!
Give essential oils a try for your pregnancy, labor and delivery!
One thing I do recommend is that you use your pregnancy as a time to incorporate oils into times relaxing. If you are practicing relaxing like I recommend, inhale lavender and neroli (sweet floral notes) with some bergamot or frankincense (deeper, grounding oils) throughout that practice time or any time you sit down to rest and take a few deep breaths.
It's good to connect with the oils in advance. You get used to them and in a way, conditioned to relax when you smell them, which makes them even that much more potent for you.
---
Do you have favorite essential oil you have used during your pregnancy or labor and birth? I'd love to hear about it. Drop a comment below.
---