Does finding a doula seem hard? Let it be easy with these best tips from a doula, including the one simple thing that matters most.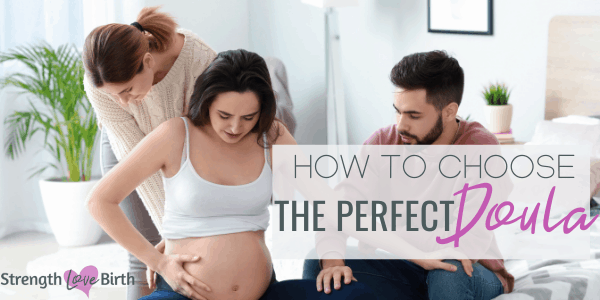 Hiring a stranger who will be with you during the birth of your child and witness your most vulnerable moments can feel like an impossible task. You might be asking yourself: How will I know who is the best fit? What if I hire the wrong doula? Am I really paying someone to watch me get naked and swear?
As a doula myself for more than 17 years, let me assure you: When you meet the right one, you'll know. Your intuition will guide you to the best person for the job of walking alongside you as you give birth to your baby. Below, I'll share the signs to watch for as your intuition guides you toward the right person.
But first, you've got to find that person. Here are some tried and true ways to find that doula who will answer all your questions, stay by your side, and help you have an amazing birth.
How to find a doula: 3 reliable options
Here are my favorite ways to find a list of potential doulas to interview:
DoulaMatch.net – DoulaMatch is a free to you service that lists a ton of doulas in most areas of the country. This is the best way to find a whole list of doulas and information about them. My favorite feature is the calendar that shows their availability around your due date. Definitely start with Doula Match at their website right here.
Google [Doula in YourArea, State] – Good ole Google is a pretty good way to get started but be aware that having a great website that shows up in Google searches is NOT in many birthworkers' wheelhouses. In other words, some great doulas won't show up on a search like this. So it's not a bad way to get going, but don't let this be the be-all-end-all of your searching. If you're lucky, you'll stumble upon a local organization that keeps a list of local doulas up to date and can give you that list.
Facebook groups – As one example, my area, a small city in Ohio, has at least three different groups for birth and homebirth. All the groups have plenty of other women who love to recommend their favorite doula. One group keeps an official list of all the doulas in the area for you to access. In Facebook groups, you can make friends with other women in your area and get their best advice and recommendations. Get on Facebook and search for groups with "birth" plus your city or area. Some Facebook groups are run by doulas who enforce strict "no outside referral" policies. So just be aware of your local groups' rules.
Ready to Interview Doulas? Remember This
Think of your initial meeting with a doula as less like an interview and more like a coffee date while getting to know a new friend.
Yes, you should have a few pointed questions, but a lot of hiring a doula has to do with how well you hit it off. If someone rubs you the wrong way, it doesn't matter how much experience she has. You shouldn't hire that person.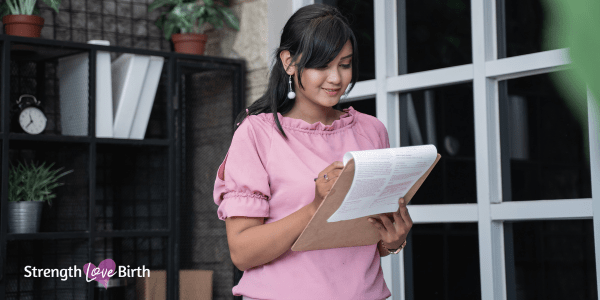 So bring your questions, but after you've spoken with a few potential doulas, ask yourself these questions:
Who did I feel most comfortable with?
Who did I trust the most?
Who can I not wait to have another chat with soon?
Believe in following your intuition as a mother. Now is a good time to lean into this. Hiring someone who will see you at your most vulnerable is a good time to really rely on your own deepest feelings.
If you're choosing between two doulas who both seem wonderful, you have a couple of options:
First, check with your partner and see who they might be leaning towards.
If you're still in doubt, I would go with the doula with more experience with the kind of birth that you are planning.
10 Important Questions to Ask a Potential Doula
At your first meeting with a doula, go ahead and bring a list of questions to ask like the list below, but focus on relaxing and getting to know them as a person. You should have a list of questions to ask a birth doula like those below, but you should also be getting to know them as a person. 
What is your experience in helping at births? 
Have you had formal training?
Why do you do this work?
What are your favorite birth resources like books or courses?
What would you do if my labor stalled in the middle?
How much do you charge and what does that all entail? 
What's the most important outcome at a birth for you? 
How do you deal with really long labors?
Do you have anyone who works with you as a backup?
What kinds of things do you bring to a birth?
For a more extensive list with many excellent questions to ask your potential doula, please check out this checklist of questions to ask a doula on The Bump.
You should also ask about certain points that are important to you specifically. For example, I'm a huge proponent of using herbs, so I would want to ask a doula if she feels comfortable with that and if she has any experience in using herbs during pregnancy or birth.
Whether you gravitate towards essential oils or spirituality/faith tradition or something else, find out where your doula stands on issues that are important to you.
The Simple but Most Important Test to Choose Your Best Doula
One factor matters most of all when choosing a doula: Does she pass the vibe check?
Did you enjoy talking to her?
Did you click?
Do you look forward to talking with her again?
Did she make you feel good?
Did just being around her make you feel calm and comfortable?
Try to find someone who hits a lot of these vibe benchmarks for you. These are highly individual because they are specific to you and those inexplicable things that connect us with other human beings.
So trust yourself and your intuition. Don't let cold, hard data be the only thing you consider when you're trying to find the best doula for you and for this birth.
Money Talk: How Much Does it Actually Cost to Hire a Doula?
You can probably find a doula at any price range. However, the experience of most doulas will be congruent with their fees. 
Being on call is a steep commitment because a doula has to attend a birth at a moment's notice that may last anywhere from hours to days and will in the meantime disrupt any and all activities planned for that time period. Also, many doulas have spent years learning about birth, a complex event, and attending multiple trainings and workshops to hone their craft. 
Those who charge the most likely have other advanced skills or certifications, like as a massage therapist or a monitrice-a birth support person with some medical training as well. Their prices most likely encompass a more detailed package of support for you that includes other amazing services, like massage, reiki, and so on. 
If you can't pay much, please don't let that dissuade you. Even a new doula is a valuable asset to your birth team. 
With that being said, the range of what doulas charge can be anywhere from $300 to $3000 dollars.
Most fall into that middle range of $500 to $1500. 
Am I Too Late? When You Should Look for a Doula
This is completely up to you. I have had people contact me the second after the double pink line appears and others who don't start looking until they've outgrown every pair of maternity pants in their closet. 
If you live in an area where doulas are a hot commodity, sooner is definitely better than later. 
You can probably find a doula whenever you start looking, though some of the busier ones may be booked or unavailable for your due date. 
I just checked DoulaMatch for a doula in my area for a due date in three weeks and found 23 doulas whose calendars are open on that date, at least in theory! 
My recommendation is to begin your search for a doula around the beginning of your second trimester.
You may also like one of these posts:
How I (Didn't) Choose a Doula
While I've met with many expectant moms who are looking to hire a doula, the truth is that I've never actually gone through all the steps to hire a doula myself.
I was lucky at my first birth to have a good friend of mine who'd just had her first baby and felt inspired to begin training to be a doula. She was happy to come to my birth and practice her skills. Her loving support and cups of red raspberry leaf tea made a real difference in my birthing experience. (Thanks, Janel!) If a doula falls into your lap like this, consider yourself blessed.
After that, at my other four births, I relied on my amazing homebirth midwife and the excellent assistants she worked with to take great care of me. When you have a homebirth with a caring midwife who brings a dedicated team, a doula is not always necessary.
PRO TIP: In many situations, doulas are great at homebirth, though, so this is simply how things turned out for me. If you're planning a homebirth and wondering whether to hire a doula, reach out to me here and I'd be happy to share stories and reasons to consider having a doula at your homebirth.
When choosing paid birth support, you might interview several people or you might not. There is no one right way to do this.
The Best Way to Choose a Doula…
Find a few doulas.
Talk to them.
See who you vibe with.
Hire one.
Congratulations on your pregnancy! I hope you find an amazing doula who helps you have the most supported and beautiful birth possible.
Remember to go with the doula who feels like the best fit for you. Trust yourself and pay attention to the vibes you get. This is someone who will spend hours with you in all your glory (while you utter swear words the likes of which the world has never heard!).
Before You Go
Make sure you sign up for the Powerful Birth Packet ⤵️ so you can get more prepared for your upcoming labor and birth with some super helpful printable lists and positive affirmations that will make a real difference for you.