When you are newly pregnant and planning your birth, figuring out how to choose a doula for your birth can be a daunting task! But finding the right doula for you is not as difficult as you might believe. Here are this doula and mom of 5's best tips on how to find a doula for an amazing, supported birth.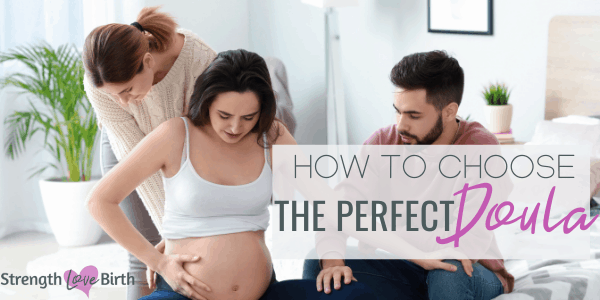 How I (didn't) choose a doula
First, I have to admit that I am uniquely qualified and unqualified to write this post. I have been a doula for 15 years and have been hired to help others, but I have never actually chosen a doula myself!
I was very lucky at my first birth to have a very good friend of mine who had just had her first baby and was inspired to begin training to be a doula. She was very happy to come to my birth and practice her skills.
After that at my other 4 births, I just relied on my amazing homebirth midwife and the excellent assistants she had to take great care of me. When you have a homebirth with a dedicated and caring midwife, a doula is not always necessary.*
*There are many times doulas ARE great at homebirth, though, so this is simply how things turned out for me. I could tell you stories & great reasons to have a doula at a homebirth, if you're interested.
How to find a doula
There are several great ways to find a list of potential doulas to interview. These are my favorite ways:
DoulaMatch.net – Doula Match is a service that has a ton of doulas in most areas of the country. As far as I know, this is the best way to find a whole list of doulas and information about them, including their availability around your due date. Definitely start with Doula Match.
Google [Doula in YourArea, State] – Good ole Google is a pretty good way to get started but just be aware that having a great website that ranks high in Google searches is NOT in many birthworkers' wheelhouses. In other words, there are some great doulas who just won't show up on a search like this. So it's not a bad way to get going, but definitely don't let this be the be all end all of your searching. If you're lucky, you'll stumble upon a local organization that keeps a list of local doulas up to date and can give you that list.
Facebook groups – My area, a small city in Ohio, has at least 3 different groups for birth & homebirth, all with plenty of other women who love to recommend their favorite doula. One group keeps an official list of all the doulas in the area for you to access. Don't discount Facebook groups because you can make friends with other women in your area and get their best advice and recommendations. Get on Facebook and search for groups with birth + your city or area. Just be aware that some groups may be run by groups of doulas who aren't really open to other people being recommended, so just be aware of who runs each group.
How to interview a doula
I highly recommend that you think of your initial meeting a doula less like an interview and more like a coffee date while getting to know a new friend.
Yes, you should have a few pointed questions, but a lot of hiring a doula has to do with how well you hit it off. If someone rubs you the wrong way, it doesn't matter how much experience she has. You shouldn't hire that person.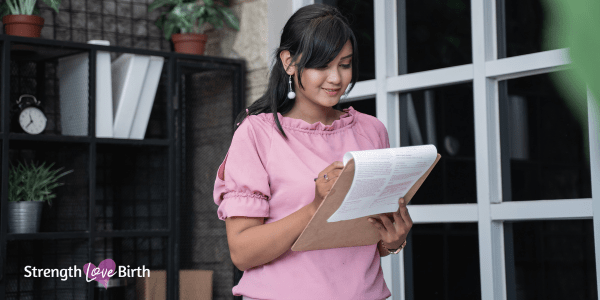 So bring your questions, but after you've spoken with few potential doulas, ask yourself these questions:
Who did I feel most comfortable with?
Who did I trust the most?
Who can I not wait to have another chat with soon?
I'm a big believer in following your intuition as a mother, and now is a good time to lean into this. Hiring someone who is going to see you naked is a good time to really rely on your own deepest feelings.
If you're choosing between 2 doulas who both seem wonderful, you have a couple of options. First, check with your partner and see who they might be leaning towards. If you're still in doubt, I would go with the doula with more experience with the kind of birth that you are planning.
What to ask a doula
At the first meeting with a doula, just relax and get to know them. You should have a list of questions to ask a birth doula like those below, but you should also be getting to know them as a person.
What is your experience in helping at births?
Have you had formal training?
Why do you do this work?
What are your favorite birth resources like books or courses?
What would you do if my labor stalled in the middle?
How much do you charge and what does that all entail?
What's the most important outcome at a birth for you?
How do you deal with really long labors?
Do you have anyone that works with you as a backup?
What kinds of things do you bring to a birth?
For a more extensive list with a bunch of excellent questions to ask your potential doula and yourself afterward, please check out this checklist of questions to ask a doula on The Bump.
You should also ask about certain points that are important to you specifically. For example, I'm a huge proponent of using herbs. I would want to ask a doula if she feels comfortable with that and if she has any experience in using herbs during pregnancy or birth. Your specific thing might be essential oils or spirituality/faith tradition or whatever it is that you gravitate towards or even specifically do not want.
The simple but most important test to find your best doula
There is one thing that matters most with a potential doula: Does she pass the vibe check?
Did you really enjoy talking to her? Did you click? Do you look forward to talking with her again? Did she make you feel good? Did just being around her make you feel calm and comfortable?
Finding someone who hits a lot of these vibe benchmarks for you is great. And these are highly individual and about you and those inexplicable things that connect us with other human beings.
So trust yourself and your intuition, and don't let cold, hard data be the only thing you consider when you are trying to find the best doula for you and for this birth at this time in your life.
How much does it cost to hire a doula?
How much do you want to pay? You can probably find a doula at any price range, but the experience of said doula will be congruent with her fee.
If you can't pay much, please don't let that dissuade you. Even a new doula is a valuable asset to your birth team.
With that being said, the range of what doulas charge can be anywhere from $300 to $3000 dollars.
Most fall into that middle range of $500-$1200.
If that seems like a lot to you, please understand that being on call and willing to attend a birth at a moment's notice that may last anywhere from hours to days and will in the meantime disrupt any and all activities that may have beennplanned for that time period is a steep commitment! In addition, many doulas have spent years learning about birth, a complex event, and attending multiple trainings and workshops to hone their craft.
Those that charge the most have likely got other very helpful certifications, like as a massage therapist or a monitrice (a birth support with some medical training as well). Their prices most likely encompass a more detailed package of support for you that includes other amazing services, like massage, reiki, or what have you.
When should you look for a doula?
This is completely up to you. I have had people contact me almost as soon as they found out they were pregnant and others who don't start looking until well into their third trimester.
If you live in an area where doulas are a hot commodity, sooner is definitely better than later.
You can probably find a doula whenever you start looking, though some of the busier ones may be all booked up or unavailable for your due date.
I just checked DoulaMatch for a doula in my area for a due date in three weeks and found 23 doulas whose calendars are open on that date, at least in theory!
My recommendation is to begin your search for a doula around the beginning of your second trimester.
You may also like one of these posts:
And that's how to choose a doula…
Find some different doulas.
Talk to them.
See who you vibe with.
Hire them.
Congratulations on your baby and I hope you find an amazing doula who helps you have the most supported and beautiful birth possible!