Here's this doula's best list of snacks for labor. Figuring out what to eat during labor can be a bit tough. Wait….can you even eat while you're in labor? Yes, you can eat during labor and you should be prepared to do so by planning ahead a variety of foods to keep you hydrated and energized while you give birth to that baby. Don't miss this comprehensive list of foods to pack for your labor and delivery!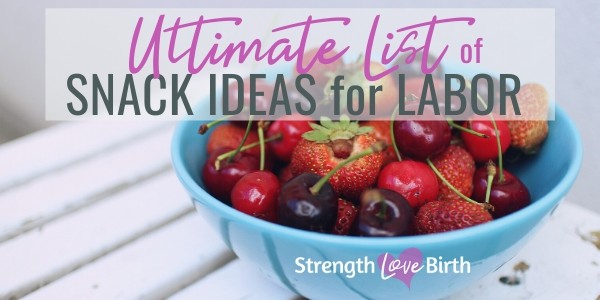 Can I eat during labor?
The easy answer to this is YES! You can eat during labor. Eating and drinking during labor is pretty important to keeping your energy up.
Would you run a long race without any food or drink? Of course not! And labor can be just as demanding on your body.
Now, with that said, some hospitals don't "let" a laboring woman consume anything except ice. This is not a scientifically sound position and is based on a fear of aspirating vomit during an emergency cesarean.
That's like saying if we let kids run around at recess, someone might get hurt, so let's just make them all sit or walk slowly to prevent an injury. There's just no sense in it.
Healthy kids need to run around, and healthy pregnant people need to eat and drink while they are in the process of having a baby.
If your chosen place of birth has this policy in place, I'd consider that a big red flag and rethink if this is really the best place for you to have your baby.
Will I be hungry during labor?
You might not be hungry at all. But you might be! The only way to move forward is to be prepared.
The good news is, anything that you buy as sustenance for labor will not go uneaten. You will need every last bit for your postpartum recovery and/or breastfeeding snacks.
Finding food to eat that is nutritious and easy to consume while taking care of your postpartum self and your new baby can be difficult. Healthy-ish food you can eat with one hand is the gold standard!
What are the best snacks for labor?
The very best snacks for labor are either super hydrating, highly nutritious, high in protein, or just plain easy to digest.
Let's be honest here, anything that even remotely sounds good in the middle of labor is just fine!
But you have no idea what will sound good, so use these tips to plan ahead what to eat during labor:
Bring foods from each of the categories to ensure that you are able to find something that sounds good when you need it.
Have a variety of textures available. Soft, crunchy, juicy. Pack it all.
Don't forget Dad! Pack enough that he can eat some, too, without wiping out your snack supply.
Treat yourself. Choose items that are a little extravagant that you don't normally buy, like that premium organic juice or fancy European chocolate bar.
---
The Ultimate List of Snacks for Labor
BARS AS SUBSTANTIAL SNACKS
Lots of women like a granola bar or a protein bar as an easy and portable snack during labor. I think you should definitely pack a whole box of these to feed you and your birth support team. Just choose your favorites and tuck them away in your hospital bag.
Clif bars
Rx bars
Dark chocolate Kashi bars
Lara bars
MORE SUBSTANTIAL PROTEIN SNACKS
Protein is so important for pregnancy nutrition, plus it helps balance your blood sugar so you don't have any crashes later. If you can stomach any protein during labor, you should eat some. Here are some favorite protein snacks that make good food to eat during labor.
Crackers with peanut butter
PB&J – Peanut butter & jelly sandwich
Cheese cubes
Frozen yogurt
Protein shakes
Greek yogurt
Honestly, any entree that sounds good!
HYDRATING BEVERAGES
Drinking throughout labor is super important. If you can't keep your liquids up, you'll find yourself on an IV. You should pack a variety of beverages to keep you well hydrated and energized for the work at hand.
Peppermint tea with honey
Emergen-C
Laborade, a homemade electrolyte drink
Red Raspberry Leaf tea
Apple juice or any fruit juice that sounds good
Bone broth
Smoothies
Gatorade
Coconut water
Ice water, an ever popular favorite
JUICY SNACKS
These light snack ideas provide both some simple carbs for energy as well as a high water content for hydration. A juicy, cold fruit is often a very appealing snack for labor.
Mandarin oranges
Grapes or frozen grapes
Berries
Watermelon
CRUNCHY SNACKS
Sometimes a dry, crunchy snack like a cracker is comforting, like when your mom gives you saltines when you're sick. They can help settle the stomach and give a little protein or carb boost as well. Try one of these crunchy snacks during early labor for energy.
Cashews
Granola
Cocoa almonds
Crackers
Graham crackers
Goldfish crackers
SUPER PORTABLE ENERGIZING SNACKS
Many of these portable snacks really could fall under the other snack categories. Some of these are protein-rich or light & juicy, but mostly they are EASY! Grab a selection of these easy-to-pack portable snacks and you'll be set to keep you and your partner well energized no matter how long your labor lasts. And remember, these all make great postpartum foods, too!
Write your own list of what to eat during labor
I encourage you to go through this list and write down a few things from each category that really appeal to you. Then head to the store or over to Amazon and get it all bought. It's always good to have one more thing marked off your list to lift some of that pre-labor anxiety that tends to set in.
Then come back later during a late night nursing sesh when you've already rewatched all your favorite Netflix shows and let me know what you actually ate during labor!