Here are some tips, ideas, and a free printable checklist for your hospital bag to help you to know exactly what to pack for your birth at the hospital, what NOT to bring, plus 7 things you don't want to forget! This is like a minimalist-meets-realist approach to packing a bag for you, your partner, and your baby at the hospital or birthing center. This list of things to pack for the hospital has all the essentials plus bonus extras to make your birth and early postpartum fabulous.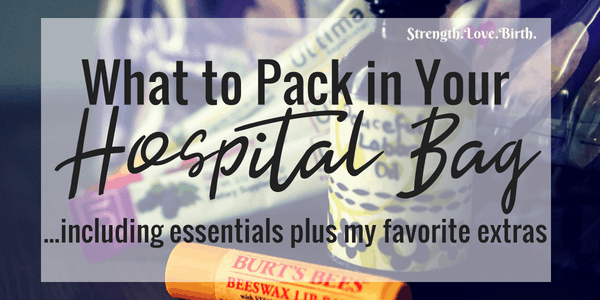 Read on to find out the basics and the extras to pack in your hospital bag that will be just what you need during your stay at your place of birth
Congratulations! You're heading to the hospital or birthing center soon to meet your baby. (Or are you staying home? I'd pack a bag just in case and make sure you have these homebirth essentials!)
These are exciting times and you want everything to go well. I know how tempting it is to bring a few huge bags of stuff to the hospital for all the just-in-cases that might happen during your labor, delivery, and early postpartum time. But just know that the your place of birth is going to provide a lot of what you need. Plus, every place and every person is different.
I certainly can't predict whether you'll be cold and need an extra fuzzy blanket or too hot and just need a tank top the whole time. The important thing is to remember that you'll be pretty close to home, right? Line up one of those people who can't stop asking when your baby is coming to be the go-to person if you need a delivery of some items from home.
So read to the bottom of the post, grab your printable checklist for hospital bag, and just pack your basic list (with my 7 essential extras!), then forget about it and start focusing on having the empowered birth you deserve!
The Basics: A Bare-Bones Hospital Bag Checklist
Not to be a bit too Duh! here, but you and your partner both need to pack like you're going away for a quick weekend. Except, instead of relaxation, you get to experience one of the most intense experiences of your lifetime!
But pack like a minimalist. Don't bring a bunch of stuff just in case. Pack like you're only taking carry-on!
So for you and your partner, you'll need a change of clothes (including several pairs of soft and expendable socks), your basic toiletries including makeup so you don't look like death warmed over in your first photos after baby is born, your phone/camera (plus ALL chargers!), HAIR TIES!, and cheap flip flops you can toss afterward. You might also want a comfy robe to wear over your hospital gown or a sweet gown that replaces that ugly hospital gown, and some snacks for your partner (that double up as great snacks for hungry nursing mamas later!).
RELATED: More on snacks during labor right here!
For baby, you'll definitely want some soft, simple newborn clothes and an amazing muslin swaddle blanket (and make sure you have your car seat properly installed now). Babies don't need much!
For your postpartum time at the hospital, pack some cute but loose tops, and some uber-comfy maternity leggings or wide leg pants and definitely pack some herbal remedies for aaalllll your tender spots (including up top & down below)
A lot of moms also appreciate a good nursing pillow because it helps so much with positioning baby while breastfeeding.  At pregnancypillow.com you can get $50 off either a pregnancy or a nursing pillow with code SLBE50. This one is a bit smaller which makes it easy to bring with you.
The Essential Extras I Recommend for Your Hospital Bag (Birthing Center Bag, too!)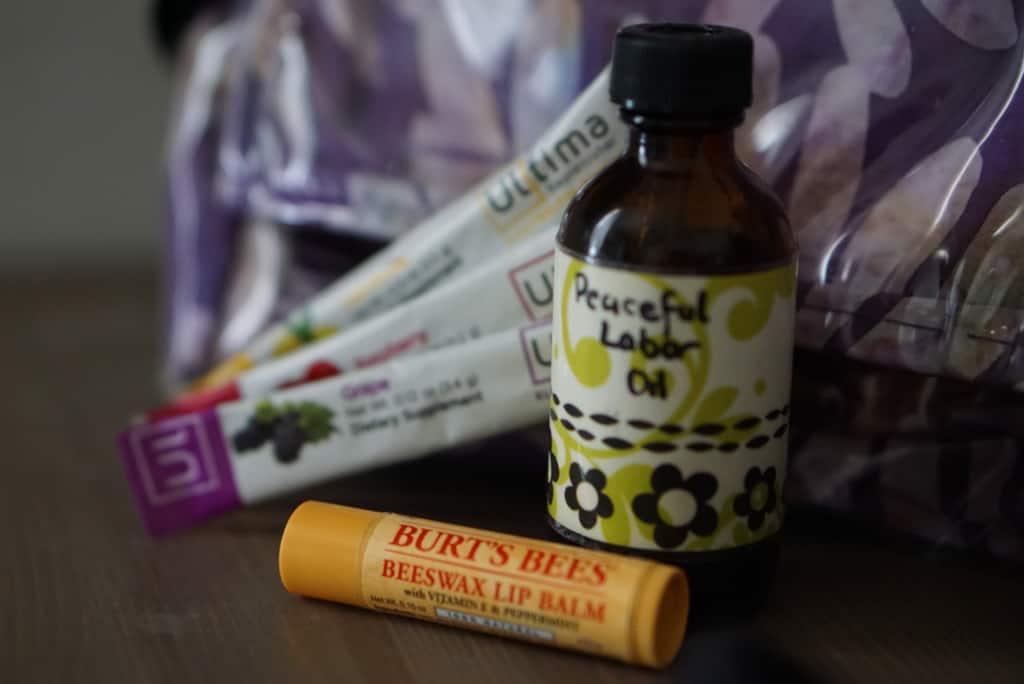 What kind of actual bag should you pack for the hospital?
First of all, I recommend bringing 3 small to medium size bags to the hospital. One for you, one for your partner, and one for the baby.
Having a huge bag with everything inside makes it hard to find what you need in the moment. Trust me, digging around in a bag that appears to be bottomless, trying to find something in a dark hospital room for a mom who's working really hard to have a baby is not a fun task!
Keep your bags separated, organized, and simple!
For mom, a rolling suitcase that  is carry-on size is great, or maybe a large tote bag, if you prefer. I personally love big, roomy tote bags, like this one.
It would be perfect and could double as a practical diaper bag afterward.
Baby things can go in your diaper bag or a random tote bag (yay!).
And partner just needs a small bag or satchel. I bought this one for my husband last year and it has been perfect for lots of different uses. He mostly uses it to carry things to and from work, but it would be perfect for a day or two away, as well.
And now…..A Printable Checklist for your Hospital Bag
This free printable PDF is a comprehensive list for mom during labor and postpartum, for baby upon arrival, and for dad/partner during hospital stay. My ultimate wish is that this list not only eases your mind on how to pack for your stay at the hospital or birth center, but that it gives you the tools you need to have an amazing empowered birth that highlights your own strength and starts your baby's earthside stay with love.
A Final Encouragement to Pack Light but Well
I hope I've encouraged you to pack a realistic small bag (well, set of bags!) with just a few touches of extras that you will definitely appreciate during labor and after baby is born.
Need a little more encouragement on this point? I've both seen and heard of several stories where people have to change rooms up to 3 times at a hospital during their stay. It's a lot of work to haul huge bags from place to place in the hospital!
Simplify your life by packing just what you need and nothing more.
Don't forget to grab your copy of the the printable checklist for your hospital bag (or birthing center!).
I promise it will give you peace of mind when you need it most.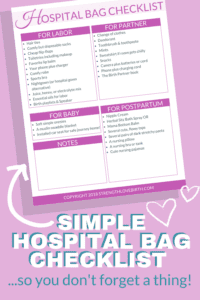 You might also like: